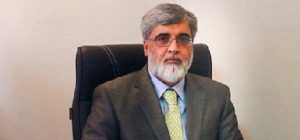 The Pakistani envoy in Kabul Zahid Nasrullah says his country is seeking warm relations with Afghanistan.
According to DID news agency report, Zahid Nasrullah who attended a press conference in Kabul, said Pakistan is not worried over Kabul-New Delhi business relations, adding that Islamabad is looking to have a warm relation with Afghanistan.
He said that Afghanistan has its own relations and foreign policies.
Meanwhile, President Ghani in his visit from New Delhi had said he will limit Pakistan access to Central Asia.
Although Pakistani officials have always said they are not worried over Afghanistan – India relations, according to experts, Pakistan is mostly concerned over India influence in southern and eastern parts of Afghanistan.