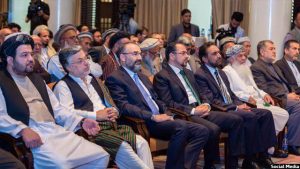 The leadership council of Hezb-e Jamiat-e Islami determined an ultimatum for the government, saying "if the government does not accept their demands, they will begin massive civilian movements."
According to sources, Salahuddin Rabbani along with some other members of Jamiat-e Islami party who went to Mazar-e Sharif Saturday night to discuss with Mr. Noor returned to Kabul.
According to Hezb-e Jamiat-e Islami, Salahuddin Rabbani along with other members of the party met with Ata M. Noor in Mazar-e Sharif and discussed plans and ways to talk with the government.
"We agreed during the meeting that if the government does not pay attention to our demands in the coming days, the party's civil plans will start after the announcement of a deadline," said Zabihullah Fetrat, the spokesperson of Hezb-e Jamiat-e Islami.
"We are never fan of military conflicts. Our political movement believe in democracy and our belief is that there will be no chance for military conflicts to occur," he asserted.
Hezb-e Jamiat-e Isami, which is one of the constituents of the national unity government, calls for the implementation of all provisions of the agreement between the party and the government; but tensions escalated between ARG palace and this political party when the government unilaterally vowed that Ata M. Noor Balkh governor, was replaced with another new governor.