Latest News
World
Japan ready to shot down N.K's missile heading toward U.S territory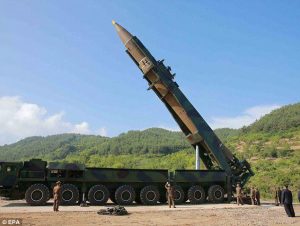 Japan could strike down North Korean missiles fired toward the US's Guam island if they passed over the Japanese territory, Japan's Defense Minister Itsunori Onodera said.
"Japan is constantly maintaining readiness for any eventuality," the new defense minister said.
According to the Kyodo news agency, He added Tokyo would invoke its right to collective self-defense to guarantee security of entire Japan. Quoted from foreign media.
This is understood to be a reiteration of the Japanese government's position.
North Korea's state agency KCNA reported earlier in the day that its military planned to complete a plan by mid-August to hit waters off Guam with four medium-range missiles. It said they would fly over three Japanese prefectures.