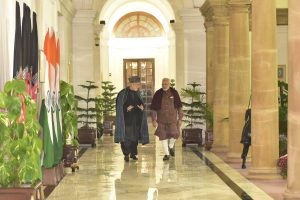 Former Afghan President Hamid Karzai met with Indian PM Narendra Modi late Saturday.
Both sides discussed on key bilateral issues as well as security situation in the region.
"Delighted to meet my friend Karzai in New Delhi," Modi, who also hosted dinner for the Afghan leader, tweeted.
According to sources, the two leaders discussed strategic bilateral ties, including India's development assistance as well as cooperation in other key areas.
Hamid Karzai is a critic of the current administration. According to experts, Karzai's visit from Russia, Iran, and India, and meeting the leaders of these countries, are to change the government and holding the traditional Loya Jirga.