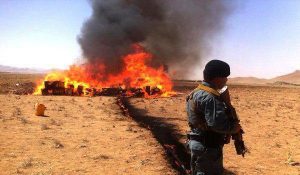 A large cargo of chemicals, which was discovered inside a container by Counter Narcotics Police in Herat two weeks ago, was fired today
The cargo which was consist of 15,000 liters of Anhydride acid, was fired in Pusht-e Koh-e Mullah Yasin areas, southwest of Herat province, attended by Herat's officials.
A large container had been stopped by Herat Police Cops about two weeks ago, which a total of 1,000 barrels were discovered that 768 barrels of these were loaded chemicals and the rest were loaded petroleum to mislead security forces.
Mr. Juma Adil, acting head of Herat province, reassured the police's determination to eliminate narcotics in the province.
According to the officials of the Herat Customs Office, these substances were taken from Islam-Qala customs under the name of petroleum, and were supposed to be sent to the south of the country.