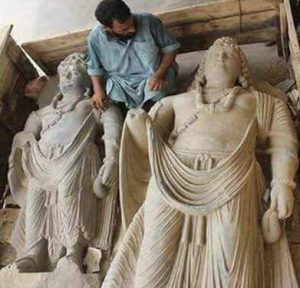 A meter statue of Buddha, which had been discovered in the area of Mes-e-Aynak of Logar province, was transferred to national museum to prevent its destruction.
According to (DID) news agency report, Ermanno Carbonara, Italian archaeologist who was sent to Afghanistan by UNESCO in collaboration with the French archaeological mission, said that this complete statue, unexpectedly preserved and explorers preferred to transfer it to national museum for full protection.
Colored statue of Buddha "Mes-e-Aynak" was discovered in 2012, in an area where workers of a Chinese company were excavating copper mine in this place. At the beginning of the company work, a large ancient city with 6 temples area of 4 square km were discovered, and the one meter Buddha was part of the antiquities of this place.
He added that the statue is made of mud of Mes-e-Aynak sea, which has no resistance to moisture and archeologists worry that the rain might damage the statue.
Mes-e-Aynak statue refurbished at the French archeological mission workshop in Afghanistan.