Survivors said that the soldiers carefully planned the Aug. 27 attack, and then deliberately tried to hide what they had done.
---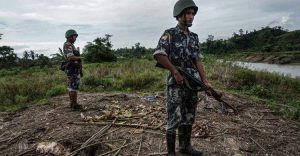 The graves are the newest piece of evidence for what looks increasingly like a genocide in Myanmar's western Rakhine state against the Rohingya, a long-persecuted ethnic Muslim minority in the predominantly Buddhist country.
The Myanmar government regularly claims such massacres of the Rohingya never happened, and has acknowledged only one mass grave containing 10 "terrorists" in the village of Inn Din. However, the AP's reporting shows a systematic slaughter of Rohingya Muslim civilians by the military, with help from Buddhist neighbors — and suggests the presence of many more graves with many more people.
"It was a mixed-up jumble of corpses piled on top of each other," said Kadir, a 24-year-old firewood collector. "I felt such sorrow for them." Reported by AP.
Myanmar has cut off access to Gu Dar Pyin, so it's unclear just how many people died, but satellite images obtained by the AP from Digital Globe, along with video of homes reduced to ash, reveal a village that has been decimated.
"People were screaming, crying, pleading for their lives, but the soldiers just shot continuously," said Mohammad Rayes, 23, a schoolteacher who climbed a tree and watched.
"There were so many bodies in so many different places," said Mohammad Lalmia, 20, a farmer whose family owned a pond that became the largest of the mass graves. "They couldn't hide all the death."