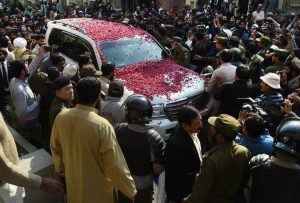 Hafiz Muhammad Saeed, the founder of Lashkar-e-Taiba who carried out the deadly Mumbai attacks, killing 166 people in 2008, has been released by a Pakistani court, his lawyer said.
According to New York Times, the move will free Mr. Saeed to participate more directly in Pakistan politics. And at a time when other countries have been pushing Pakistan to do better in curbing militant, it presents another example of how the most extremist voices in the country seem to be moving more into the mainstream.
The Newspaper reported, Mr. Saeed had long been one of the most-wanted militant leaders in the region, but he had been living in the open in Pakistan for years despite a $10 million American bounty on him.
Meanwhile, to many Pakistanis, Mr. Saeed is a hero.
The report further added: In January, the Pakistani government declared him under house arrest, seeming to bow to international pressure. The arrest order kept him from fund-raising for Jamaat-ud-Dawa. The arrest order was extended several times until Wednesday, when a three-member judicial body reviewed and rejected a government request to extend Mr. Saeed's detention for another 90 days. His current detention order expires overnight Thursday.
"We are overjoyed to announce that after waiting for 10 long months, our chief will finally be free," Jamaat-ud-Dawa's information secretary, Nadeem Awan, said.
"There is a lot of celebration and happiness within our ranks, and we are proud that we have been able to get justice the legal way, through the courts." He added.
This comes as Pakistan has been repeatedly accused of harboring terror groups by regional countries.