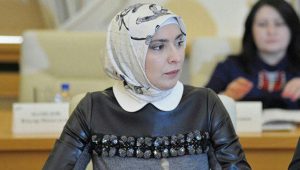 Aina Gamzatova, a successful journalist submitted her registration papers to the Central Elections Committee on Monday.
She was nominated as a presidential candidate by a local initiative group in the Russian Republic of Dagestan in late December and is running as an independent.
According to RT, Gamzatova is the wife of the chief mufti of Dagestan, and also his government and public relations adviser. In addition, the 46-year-old runs several charity organizations.
Gamzatova still has to collect and submit as many as 300,000 signatures from supporters from all Russian regions.
Aina Gamzatova is the first Muslim candidate for the Russian presidential election in the last four years.
The Russian presidential election is scheduled for March 18.
According to the head of the Central Elections Commission, 34 independent politicians, including Vladimir Putin have declared their intention to run in the 2018 election.
Current Russian President Vladimir Putin will run for a new term as an independent, even though his election bid has been endorsed by several parties, including the parliamentary majority United Russia party and the leftist parliamentary opposition Fair Russia party.