According to a new survey, Afghanistan government has leveled up transparency on the national budget.
---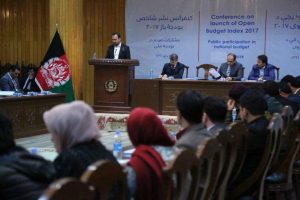 According to a new survey, Afghanistan government has leveled up transparency on the national budget.
Afghanistan Transparency Watch and International Budget Contribution released its findings on transparency in the Afghan national budget and shared the details with the media.
Afghan Transparency Watch in collaboration with the International budget agency, has carried out surveys in the past 21 months on budget transparency, public participation in the budget, and access to budget information and monitoring of budget implementation.
The survey has been carried out according to "open budget index" and reviewed Afghanistan national budget in 2017.
According to the study, transparency in the national budget got 49 points, people's participation is 10 points, and the role of budget oversight by the legislative and the Supreme Audit Office is 43 points out of 100 points.
Nevertheless, Afghanistan ranked second in terms of transparency of the national budgets after Nepal while the average transparency level in the world budget is 42 points.
"The Afghan government has had considerable progress over budget transparency in the past 10 years," said Sayed Ekram Afzali, the chief executive of Afghanistan transparency watch.
"The information provided in the context of key government budget documents released by the Afghan government is limited," Mr. Afzali added.
According to him, the Afghan government provides few opportunities for the public participation in the budget.
He emphasized the monitory role of the legislative and the supreme audit office in implementing the budget, is very limited.
He said that provincial budget plan should be in focus for more public participation.
Meanwhile, Khalid Payanda, the financial and administrative deputy to the Ministry of Finance, said: "the ministry worked on reforms, especially in the fiscal year 1397 (solar year) budget, and its results will be highlighted by next year.
Mr. Payanda reminded that government focuses on increasing provincial budgets as well.
Afghanistan Transparency Watch stresses that government has made progress regarding national budget while the International Community says it will continue its assistance on the condition of anti-corruption measures and even warned it will cut off its financial support assistance due to the continuation of widespread corruption within governmental agencies.
Akhtar Suhail – (DID) news agency
Translated by Taher Mojab