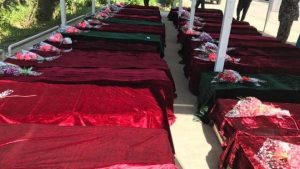 National mourning or national shame? This is the question that a Facebook user has asked. Indeed, up to what time scores of people being killed and we just rely on a national mourning?
Zahra Joya writes: "what can national mourning do? Just a repetitive reaction."
Yesterday, (Sunday, April 23rd) was a national mourning, President Ghani vowed after the deadly attack to 209th Shaheen corps in Balkh province that left more than 140 soldiers dead and injured more than 160 other people, according to various reports. The attack had been conducted on 209th Shaheen corps mosque and targeted the soldiers during Friday prayers. According to the media.
Meanwhile, the presidential palace by publishing a statement said that Afghanistan's flag will be half-mast in and outside the country on April 23rd.
Security officials have condemned the attack the same as before, the president went to Balkh province and closely visited the wounded people of the incident and vowed that Sunday is a "national mourning." The president's action followed a lot of reactions, specially at social networks.
Malek Setiz writes: "Instead of declaring national mourning day, set up a nationwide battle day."
Mustafa Aminzada, another user wrote to his friend: "dear Fawad! Wish you long life, Fawad lost his supporter. Colonel Abduljabbar Naseri, my dear friend's father had gone to inspect the 209th Shaheen corps, who was martyred in Friday's attack."
Fawad Naseri is a reporter for Ariana News. His Facebook page is filled with tragic and sorrowful messages that his friends have sympathized with him.
Ahmad Farshad Saleh has said: "a shouting throat for justice, but today witnesses that his biggest supporter had gone to eternity."
Tina Yekta wrote: "martyr pervert nation! I wish we were upbringing something else, for example, being a wisdom pervert nation."
Nasir Behzad said: "if the terrifying event of Shaheen corps had occurred in North Korea, the defense minister, chief of staff and commander of the corps would be executed, using a machine gun." The allusion which is in this post seems to hesitate! How can two ranger vehicles with 10 armed men with all kinds of explosives enter a military base; while, the soldier of the base cannot enter the dining room unless showing his identity card.
It is more tragic that some have said, Shaheen corps had faced a shortage of coffin and authorities of the security forces are not able to count the number of victims.
Homayra Saqib by publishing a picture of a mother who is crying, wrote: "Karzai; how can you represent this suffered mother that Taliban martyred his son."
Kobra Akbari wrote on her twitter: "dad was bringing bread home but he is dead now, at the end of a valley, which was deep and dangerous, the size of the irresponsibility of a community and …
Some international newspapers have also published words about the attack. The British newspaper (Daily Mail), wrote: "Taliban fighters' attack to 209th Shaheen corps is the deadliest attack of its kind on a military base."
The American newspaper (Washington Post), wrote: "the current government of Afghanistan is faced with extremist militants on the one hand and on the other hand, grapple with inside power struggle." The newspaper wrote that Mazar-e-Sharif incident is a threat to President Ghani. The attack was condemned by U.S military forces in Afghanistan, which they themselves have the war leadership against Taliban insurgents in the past 16 years. According to the article which was published by Washington Post.
On the other hand, some neighboring countries including Iran and Pakistan condemned the attack to Shaheen corps in Balkh province too.
But, one of the users of social networks showed an interesting reaction to Pakistan's view. This person who is Mukhtar Joyanda wrote on his page: "Pakistan should give up training terrorists, instead of condemning the attack."
The deadly attack of Mazar-e-Sharif incident occurred, while some security officials have warned about expands of insecurity in the north of the country; however, it is not exactly clear that the insecurity graph will rise in the north of the country or the government has devised a plan to curb it!