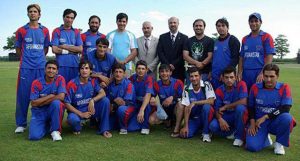 Afghanistan U-19 cricketers have left India for Singapore to play six matches in battle for place in 2018 World Cup.
They will face Malaysia, Singapore and Nepal for the one day matches, each for two times. The tournament will begin Monday this week and will end on 25th July.
The team trained in the Indian city of Chennai before attending the next match.
16 team will participate the 2018 U-19 Cricket World Cup in New Zealand.
Afghanistan U-19 have played four World Cups in 2014 and secured the seventh position.