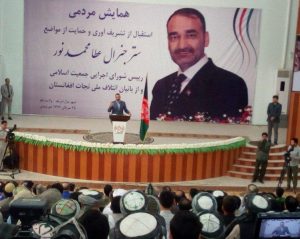 Etilaf-e Nejat (a coalition of salvation) is a steady and solid move and there is no friability in it, Ata Mohammad Noor says.
According to (DID) news agency report, "Nejat coalition is a solid move and will never be broken," Ata Mohammad Noor, a member of the coalition said Sunday.
"On all aspects of the coalition have been worked and will declare existence after evaluating all country's political situation," he added.
"We have tightened the coalition's belts well and then the move has begun," Balkh governor said.
According to him, the coalition's goal is not to collapse the establishment, but it wants to bring fundamental changes at the level of government.
It is said that the coalition's next step will be massive public gatherings at the capital and provinces of the country.
"Those who ask the coalition to register their assets, should first bring transparency to national contracts," he stressed.
He believes that the leaders of "Etilaf-e Nejat" do not need to register their assets, because they are not 'ashamed' before foreigners, but "those" who benefit millions of dollars from national contracts must register their assets.
"The government wants to rule the public with three – four people and hand over all economic resources to some people," according to Balkh governor.
The chief executive of the Hezb-e Jamiat Islami also added that the government must explain all million dollars contracts – which is national capital – to the people.
Mr. Noor is one of the main members of the Etilaf-e Nejat. He formed the coalition with Gen. Dostum and Mohammad Mohaqiq to counter what is considered ARG's monopoly.