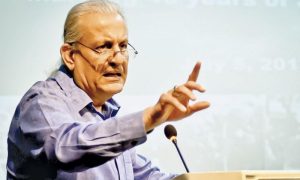 The Pakistani senate chairman Mian Reza Rabbani says a nexus among the US, Israel, and India is emerging that could be a grave threat for the entire Muslim world.
According to the Nation news service, the Pakistani senate chairman says the twin issues of security and economy posed a grave threat to the peace and harmony of the entire Muslim Ummah. Increasing security and defense cooperation among the Muslim world is a key to remove the barriers to progress and prosperity that terrorism posed.
"Further, there is a changing world scenario in which a nexus among the US , Israel and India is emerging and the Ummah needs unity to deal with this because today it is Pakistan and Iran, tomorrow it can be any other country," said Mr. Rabbani in a statement.
Rabbani called for collective efforts to root out the menace of terrorism and must not let a handful of extremists and transnational terrorists malign Islam for their vested interests.
On the other hand, he said that Pakistan strongly opposed the US attempt to alter the legal and historical status of Al-Quds Al-Sharif, and the move was a blatant violation of the international law and the UN Security Council resolutions.
The co-sponsoring of the UN resolution on the Palestine issue has brought the US pressure on Pakistan and the Muslim world should realize that.
"Atrocities being perpetrated against Muslims in different parts of the world, be it Palestine, Kashmir, Burma and elsewhere, as well as the seething unrest and violence in Afghanistan, Syria and Iraq are a matter of grave concern and a collective challenge," he said.