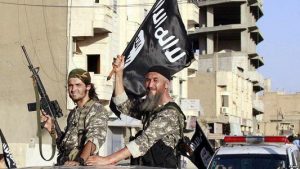 French and Algerian fighters – defeated in Syria – have joined the ranks of ISIS group in northern Afghanistan where the militants have established new bases, according to multiple international and Afghan sources.
According to AFP, It is the first time that the presence of French IS fighters has been recorded in Afghanistan.
"A number" of Algerian and French nationals entered the largely IS-controlled district of Darzab in northern Jowzjan province in November, said district governor Baaz Mohammad Dawar.
"At least two women were among the arrivals, who were travelling with a translator from Tajikistan as well as Chechens and Uzbeks," Dawar added.
Mohammad Raza Ghafoori, the Jowzjan provincial governor's spokesman, said French-speaking Caucasian men and women had been seen training IS fighters in Darzab.
He cited reports saying that around 50 children, some as young as 10, have also been recruited by the fighters.
Meanwhile, Darzab residents reported that roughly 200 foreigners had set up camp just a few hundred metres (yards) from the village of Bibi Mariam.
This comes as Several European services believe the fighters entering Afghanistan through Tajikistan.