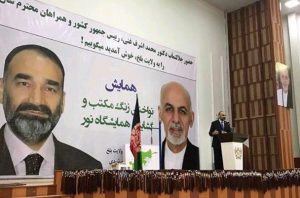 Governor of Balkh province said that war in north is not the battle of some Taliban, but the war of powers, during president Ghani's visit from Mazar-e-Sharif.
According to (DID) news agency report, Atta Muhammad Noor, Balkh governor besides expressing concerns about deterioration of security status in north, said that war in Northern provinces is the war of foreign powers in Afghanistan, during a ceremony which was held on the occasion of country's president, Muhammad Ashraf Ghani presence at "Noor" convention, south of Mazar-e-Sharif.
"Current war should be taken out of defensive status; otherwise Balkh province will be damaged too," he stressed.
Balkh governor also spoke about false information about security situation given to president, and said that incorrect information is given to the president and some facts are hidden from him.
"I have no problem with Balkh provincial council, but some lawyers are also found malicious," he added.
"Soon, I will resign from Balkh authority, but it does not mean losing control of Balkh." He also said.
"Anyone who become rebellious in Balkh, I will suppress them," he added.
He pointed to the achievements in the field of education in Balkh and said; education of Balkh has more than 620 thousands students. 50% of students, 50% of university students and 55% of teachers are women.
Mr. Ghani also thanked from president Ghani's one million dollar contribution for reconstruction of the holy mosque (Rawsa-e-Sharif).
It is noteworthy that president Ghani at the head of a delegation traveled to Balkh province, in order to ring the bell of school and opening "Noor" convention and the holy (Rawsa-e-Sharif) mosque.