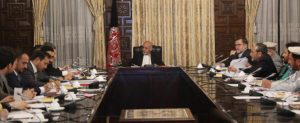 The National Procurement Commission (NPC), under the chairmanship of President Mohammad Ashraf Ghani, approved 20 contracts worth 3.6bn during its session on Monday (10 July).
The approved contracts included:
• Construction and activation of 110kV transmission line from Salma Dam to Krokh station and distribution of electricity to Pashtun Zarghoo, Obe, Krokh and Chesht Sharif districts.
• Procurement of equipment for the Ministry of Public Health and Ministry of Defense.
• Design and activation of substation in Noor-ul-Jihad area of Herat.
• 7 healthcare projects for Nuristan, Kunar, Zabul, Sar-e-Pul and Kabul.
• Renting of two airplanes for the transportation of pilgrims for Hajj.
• Purchase of tablet computers for the independent elections commission.
The National Procurement Commission, functioning under the purview of Administrative Office of the President, has been set up on the order of President Mohammad Ashraf Ghani. One of the main objectives of the NPC is to combat corruption and improve transparency in public procurement processes
Sarwar Danish, second vice-president, Dr. Abdullah, chief executive, ministers of finance, justice, and economy had attended the session.