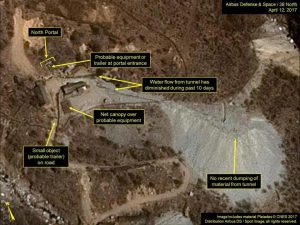 A tunnel has collapsed at Punggye-ri nuclear test site in North Korea killing around 200 people, according to reports.
The collapse happened at the Punggye-ri nuclear test site in the north-east of the country on October 10, according to Japan's TV Asahi.
It is thought 100 people were trapped by a first collapse, and another 100 by a second during an unsuccessful rescue operation.
A North Korean official said the collapse happened during the construction of an underground tunnel, South Korea's Yonhap news agency reports.
It was reported earlier this year that the mountain under which the base is believed to be hidden was at risk of collapsing and leaking radiation into the region.