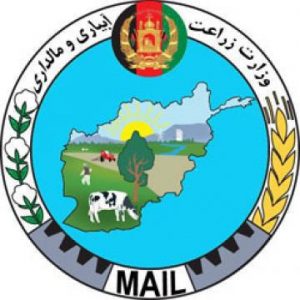 Afghanistan Ministry of Agriculture and Livestock said that it had gained more achievements in the last one year in the country's 34 provinces.
Lutfullah Rashed, spokesman for the Ministry of Agriculture and Livestock told reporters that the ministry's Irrigation projects' launch was underway and by the completion of which, over 23,000 hectares of lands would be irrigated, said Mashal adding the new year plan included 107 irrigation networks, but the plan had been implemented 4 percent more than the considered level.
Completion of the projects would help more people get access to water, besides helping prevention of water wastage and increase 20 percent of agricultural products in the country.
The spokesman added that based on the program, 4,000 hectares of new orchards have been created in 30 provinces of the country, but due the farmers interest, the number reached to 6826 hectares all over the country, a figure higher than specified figure.
According to Rashed, to support the country's farmers and livestock owners, each farmers have been paid a lawful loan of up to 60,000 afghanis totally reached 565 million afghanis, and that for 2017, about 706 greenhouses have been considered to be created in 19 provinces of the country, but more than the scheduled figure, 801 greenhouses have so far been created. Quoted from (Kabul Times).
Some 670 raisin-houses have been created and exploited in the provinces, with more vines and grape yields, said the spokesman, going on as saying this year, 2811 hectares of land have been under saffron cultivation, where more than 6 tons products have been yielded, showing 135 percent increase predication this year.
"814 big and 2100 small aviculture farms are created in 8 provinces, said the spokesman explaining 6666 small aviculture farms have been established in Parwan, Kabul and Logar provinces, managed by women workers.
The built 19 veterinary centers in different provinces of the country had eye-catchingly reducing livestock mortality as well as 13. 5 million dozes of vaccines have been established in different provinces. 70,000 small fishes are kept in the fisheries, from which 50,000 have been unleashed in the Salma Dam this year, for breeding and growing enough fishes, indicating that fishery has thrived this year, according to the spokesman.
Up to 70,000 breeding fishes are available in the Qargha Dam which restarted activity this year, a program would help remove need of importing of spawn from foreign countries.
112,000 female workers have been covered by the programs of the ministry of agriculture in the center and provinces, said the spokesman adding about 2.26 million non-productive and 2.160 productive trees are ready to be planted this year.