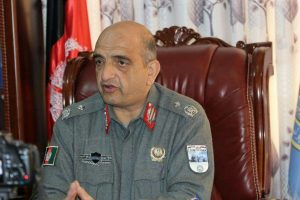 Security officials in Sar-e-Pul province say that a Taliban commander with his 5 bodyguards were killed by air strikes.
"Taliban has suffered heavy casualties during Alborz military operation in Sayyad district of the province which was launched with the support of air forces," Ali Akbar Andarabi, a spokesman for Sar-e-Pul police headquarter said.
"Last night, 5 members of Taliban group including Mullah Nasim, their commander were killed," he asserted.
"A ranger vehicle which was at the hand of Taliban were destroyed too," he said.
It is noteworthy that Alborz 1, military operation had been launched since Hamal 17th (March 6th) of the current year to clear insecure areas of Sayyad district from Taliban presence.
The military operation was scheduled for 15 days which was extended for another 15 days due to the requests of local officials in Sar-e-Pul province. Local officials of Sar-e-Pul province call for more troops to eliminate Taliban in the province.