Polls opened at 8am (local time) across Pakistan.
---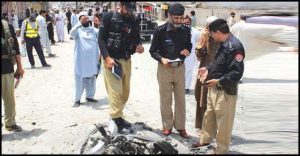 Polls opened at 8am (local time) across Pakistan.
Over the course of the day, Pakistan's 106 million registered voters will have the chance to choose new provincial assemblies, a new parliament, and potentially a new prime minister.
Meanwhile, violent attacks have already occurred across the country in the first few hours of voting.
At least22 people have been killed in an apparent suicide bomb attack in Quetta, the troubled capital of the Balochistan province. Authorities have warned the death toll from this attack could rise further. According to the Guardian.
One person was killed and three injured after PTI supporters exchanged fire with those from the securalist Awami National Party (ANP) in Swabi, a city in the northern province of Khyber Pakhtunkhwa.
Police are also investigating a grenade attack in Larkana, in the southern province of Sindh, the home of the Bhutto family. No fatalities have been reported from this attack so far.
The election is seen as a two-horse race between the Pakistan Muslim League-Nawaz (PMLN), which is led by Shehbaz Sharif, the brother of disgraced former prime minister Nawaz Sharif, and Pakistan Tehreek-e-Insaf (PTI) party, led by former cricketer Imran Khan.