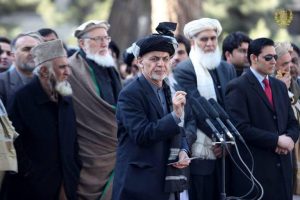 President Ghani vowed that Taliban centers are in Pakistan and asked the country to seriously counter Taliban and other terror groups that are active in its territory.
"People will not forget. Even if it takes a hundred years, the Afghans will take their revenge," Ghani said in a televised address to the nation after Friday prayers.
President Ghani, on the other hand, stressed that officials would submit a new security plan for Kabul on Sunday to prevent any further attacks.
The remarks came a day after Afghan officials said they had given neighboring Pakistan evidence showing that the militants who carried out a recent series of deadly attacks were trained on Pakistani soil.
Afghan Interior Minister Wais Ahmad Barmak and Masooom Stanekzai, head of the NDS intelligence service, told a press briefing in Kabul on Thursday that they had presented information about the terror centers in Pakistani soil.
"We are waiting for action from Pakistan, not words on the paper," he emphasized.
Meanwhile, the Pakistani embassy in Kabul, however, said the information was "being examined for its authenticity".
This comes as more than 500 people were killed and wounded in a spate of suicide attacks in Afghanistan a week ago.