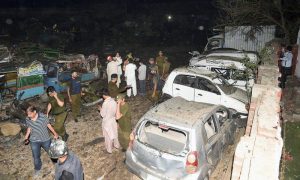 At least one person was killed and 33 were left wounded in an explosion that took place Monday evening at Sagian Bridge near the Bund Road area, local officials said.
The injured people were taken to Mayo and Munshi hospitals, according to Geo News, a local news agency.
"Some wounded people are in critical condition," said Jam Sajjad Hussian, a rescue service man.
Sources revealed that the truck is suspected to have been coming from Swat and had explosives concealed in the fruit crates stacked inside.
The truck was completely destroyed in the blast and several vehicles in the area were also damaged due to the intensity of the explosion.
There was no immediate claim of responsibility for the bombing.