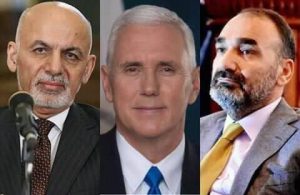 The US vice president Mike Pence spoke by phone with president Ghani on Tuesday.
The Vice President highlighted Kabul's continued engagement and critical progress on necessary reforms, political inclusion, and preparations for forthcoming elections, according to the White-house.
Mr. Pence and President Ghani also discussed the political leadership in the Balkh province, the source added.
The Vice President emphasized his support for the Afghan government to engage with Balkh Governor Ata M. Noor and conduct a peacefully negotiated transition of leadership.
The Vice President also discussed the security situation in Afghanistan and the impact of President Trump's South Asia strategy.
The discussion was a continuation of the dialogue that the Vice President had with Ghani and Afghan Chief Executive Abdullah in Kabul last month. At that time, the United States also emphasized on the diplomatic resolution of tensions between Balkh and Kabul.
Although the central government relies on foreign support in Afghanistan, the approach of politicians from contributing countries to Afghanistan has shown they are not interested in special support from any side involved in the disputes between Kabul and Balkh.