Slideshow
Powerful blast in Kabul/dozens blood shed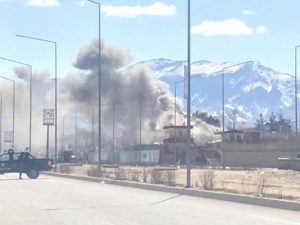 Twin powerful suicide attack shook 6th and 12th police districts.
According to (DID) news agency report, today, the first incident took place around noon that a suicide bomber blew up himself in front of the "6 PD" entrance and the other attackers placed themselves inside the police district (PD).
Clashes between security forces and armed rebels has been ongoing for more than two hours in the 6th police district.
It can be said that Special Forces dispatched to the area and tries to put down the attackers.
The attackers stormed into the area and even reached near the head of headquarter office (6th district).
More than 3o people killed or wounded in this event.
On the other hand, scaremongers also stormed to 12th police district that the attackers were killed after clashes with the police.
It is said that 5 people wounded in this incident.
Zabihullah Mujahid, a spokesperson for the Taliban, took the responsibility of the assault, by publishing a message in his tweet.