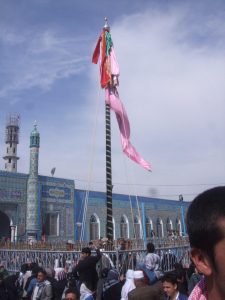 Cultural committee of the ancient Nowruz celebration in Balkh province is busy planning and getting preparation for various cultural programs.
According to (DID) press agency report, Saleh Muhammad Khaliq, head of information and culture of Balkh and head of the cultural committee of the ancient Nowruz celebration speaking with (DID) news agency, said: they have planned different cultural programs for holding Nawruz ceremony and raising "Jahanda Mubarak" near the shrine attributed to Imam Ali (AS) the best way possible, like every year.
"This year's programs will be broader and more diverse than last years" he added. Positive changes will be presented in the implementation of this program.
Head of information and culture of Balkh underlined: this year's programs organized into three parts.
Cultural programs; include holding Nowruz ceremony, book fairs, works and crafts, sport competitions, poetry reading and literary programs.
Artistic programs; include music circles, art shows, calligraphy and painting.
Media programs; contain live cover of Nowruz celebration, providing the ground for whole media presence in this celebration, printing publications for Nowruz, coordination with media in relation to producing Nowruzi programs and suchlike.
Every year, the government celebrates and commemorates the first day of the solar year as the ancient Nowruz celebration and raising "Jahanda Sakhi" with a special measures and preparation and the presence of the inside and outside senior officials in Mazar-e-Sharif.