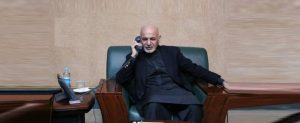 President Ghani congratulated the re-election of Iranian president Hassan Rouhani.
According to (DID) news agency report; Yesterday, President Ghani congratulated the victory of Hassan Rouhani in the presidential election of that country to the Iranian ambassador in Kabul, quoted from the presidential palace.
President Ghani on behalf of the nation and the government of Afghanistan congratulated the re-victory of Hassan Rouhani as president of the Islamic Republic of Iran to the government and people of Iran, in the recent election of that country.
He besides wishing further success to Hassan Rouhani, the Iranian president, said that it is expected that relations of Afghanistan and Iran as two close neighbors, further develop based on the principles of good neighborliness and mutual respect.