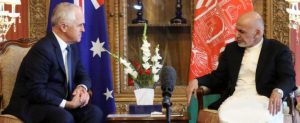 Yesterday, President Muhammad Ashraf Ghani met with Malcolm Turnbull, the Australian Prime Minister who had come to Kabul at the head of a high-level delegation.
Both sides discussed the expansion and consolidation of bilateral ties and Australian assistance with Afghanistan in a meetin in the Presidential Palace.
First, the Australian prime minister expressed his condolence to the president and Afghan people for the terrorist incident in 209th Shaheen corps.
"His country is interested in establishing relations between Australian and Afghan universities in order to encourage bilateral cooperation in the areas of mines, water management, project management, program management as well as health services." Malcolm Turnbull said. He promised that he will follow these issues back in Australia.
President Ghani also described Australia as a historical friend of Afghanistan and thanked Australian for its assistance and cooperation in different areas.
It is noteworthy that Afghanistan and Australia have excellent and friendly relations. President Ghani recently visited Australia where agreements in the areas of technical and scientific cooperation were signed. Also, an agreement worth $320 mn was signed by both countries in accordance with commitments of Brussels Conference during this visit.