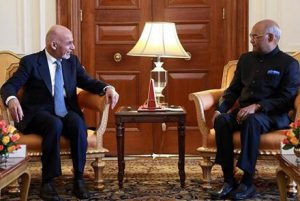 President Ghani on Tuesday arrived in New Delhi and met his Indian counterpart President Ram Nath Kovind and foreign Minister Sushma Swaraj.
During the visit, both Indian and Afghan presidents discussed a range of bilateral, regional and global issues and expressed their "firm resolve" to end the menace of terrorism.
The two leaders also discussed ways to further the shared objective of promoting security and stability in Afghanistan.
President Ghani visited Indian officials while the United States of America has stressed on New Delhi's prominent role in its new strategy on Afghanistan and South Asia.