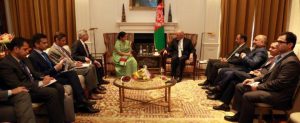 President Ghani met with Indian Foreign Minister Sushma Swaraj on the sidelines of the UN General Assembly in New York on Wednesday.
According to ARG statement, during the visit, president Ghani considered India as a friend of Afghanistan and appreciated that country's cooperation in different fields in Afghanistan.
Meanwhile, both sides discussed counter terrorism, expanding trade cooperation between Afghanistan and India and also read the new US strategy important for the regional stability.
President Ghani has said that chief executive Dr. Abdullah Abdullah in a coming trip to India will discuss with Indian traders and investors about the investment opportunities in Afghanistan, developing agriculture, water management, and enhancing air corridor between the two countries.
On the other hand, the Indian foreign minister appreciated the efforts of Afghan government specially president Ghani on the part of the regional economic cooperation, saying that economic cooperation opportunities and infrastructural projects are important for stability and development in the region.