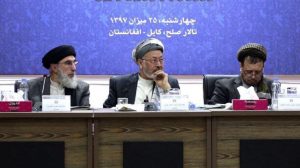 President M. Ashraf Ghani is seeking to appoint a national team to negotiate with Taliban about peace, Afghan HPC announced on Wednesday.
"the president will consult with all political movements and the nation to achieve this goal," Afghan High Peace Council (HPC) vowed.
"the peace process has reached a sensitive stage and president Ghani will appoint a national team to start direct talks with Taliban," said the head of the HPC secretariat Akram Khpalwak. "president Ghani will consult with all social and political segment about this issue," he added.
This comes as the US Special Envoy for peace and reconciliation process Zalmay Khalilzad, who has recently visited Kabul, called on the Afghan government and Taliban to set up their negotiating team for peace.
According to reports, the way to convince the Taliban for peace talks and to facilitate the peace process in Afghanistan was Khalilzad's main focus during meetings with Pakistani and Qatari officials.