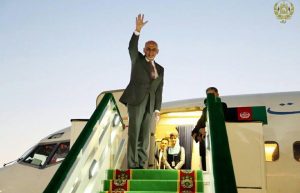 Today morning, Mohammad Ashraf Ghani, country's president sets off to Dushanbe, Tajikistan at the head of a senior government delegation to attend the second summit of "Casa-1000 project."
According to (DID) news agency report, President Ghani besides speaking at the meeting in this one-day visit, will discuss with Tajik President, Imam Ali Rahman on a further expansion of relations between the two countries, according to ARG's Facebook page.
He will also attend the Tripartite Summit of Afghanistan, Tajikistan and Pakistan and will be visiting the Tajik Republic's Agricultural and Food Products Fair.
In addition, he will visit and discuss with Nawaz Sharif, the Pakistani Prime Minister at the side line of the conference.
The delegation led by President Ghani includes Finance Minister Eklil Hakimi, Minister of Economy Abdul Satar Murad, senior presidential advisor Dr. Humayoun Qayumi, senior presidential envoy for the Central Asia Mohammad Shakir Kargar, and senior presidential advisor for public relations and strategic relations Shah Zaman Maiwandi.