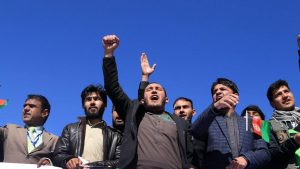 Today, hundreds of handi-capped demonstrated in response to firing rocket from Pakistan to Afghanistan in Kabul.
According to (DID) Press Agency report, today, hundreds of disabled people gathered in front of Eidgah Mosque and left Kabul to Torkham. According to them, they will continue their demonstrations there too.
Protesters stated that a number of Nangarhar's disabled people will join them there, too.
The demonstrators told that they cannot tolerate Pakistan's interference in the affairs of Afghanistan anymore, and urged the International Community to seriously investigate this issue.
In protest against the firing of rockets by Pakistan into Afghanistan, the country's citizens demonstrate against Pakistan in different cities and condemned these attacks.