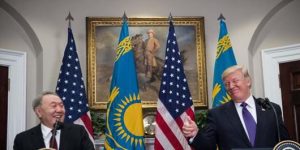 Donald Trump and Nursultan Nazarbayev discussed NATO transit issue through Kazakhstan's soil, Afghan peace process and US strategy on South Asia.
The US president described Kazakhstan as a strong, sovereign, and independent nation and a valued friend and a strategic partner in Central Asia.
"I want to thank the President for his full support for our South Asia strategy, including our efforts in Afghanistan. I greatly appreciate the President's personal assurances that Kazakhstan will continue to provide critical logistical support and access for our troops fighting in Afghanistan," Trump said in a press conference.
"Our strategic partnership with Kazakhstan has advanced my South Asia strategy, which is working far more rapidly than anybody would understand," Trump added.
On the other hand, Kazakh president said we continue to collaborate closely in Afghanistan with the United States.
Kazakh President also mentioned humanitarian and technical support to Afghanistan worth 75 million U.S dollars.
Kazakhstan has recently interested in playing more role in Afghanistan crisis issue.