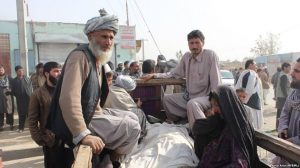 Resolute Support Mission in Afghanistan confirms recent airstrikes in Kunduz province, saying it will investigate the alleged death of civilians in the attacks.
According to DID news agency report, the Resolute Support mission said in a statement that it has started research on allegedly civilian casualties as a result of NATO air raids and it will share the outcome with the Afghan government and people.
Meanwhile, country's defense ministry spokesman Dawlat Waziri did not confirm the civilian casualties in NATO airstrikes, but says the Afghan government will also investigate the issue.
On the other hand, Kunduz provincial governor spokesman Nematullah Teimori told media that civilians were targeted by NATO forces when they came to the area to transfer Taliban corpses.
It is said at least 50 civilians were killed and wounded during NATO's airstrikes in Kunduz province two days ago.