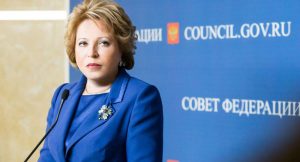 Valentina Matviyenko, Russian chairman of the federation council says that this country with partners aware of the risk of terrorism continue combating against ISIS militants.
The Russian official said that Russia with its friends and allies aware of the risk of international terrorism for humanity and world civilization will continue to fight against Daesh and other terrorist groups. According to (Sputnik).
The head of Russia's federation council said about the report that Washington has agreed with Russia on the fight against the Islamic state, which we will wait until proposal by Donald Trump, America's president about it.
Daesh terror group, has had scaremongering activities in a number of countries specially in in Arab countries over the recent years; Daesh has faced with defeat and heavy losses in Syria, Iraq and Afghanistan in the recent month.