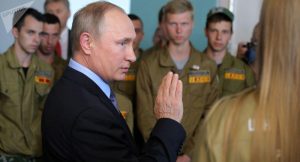 The Russian president stressed that his country will not fight with any state, but insists on its interests through civilian ways.
"We do not intend to have a conflict with anyone, but we believe that others should take us into account and respect the legitimate interests of Russia. Therefore, we will insist on achieving our own interests through civilized and legal ways." Vladimir Putin, the Russian president summed up among the workers of "Labidinsik" a mineral factory in Russia's Belgradeski, according to Sputnik.
Putin reminded that Russia is one of the largest countries in the world, in terms of both the size of the territory and the population.
"My country must offer objective and honest information without any historical distortion, in order to defend its national interests through legal and civilized ways," he added.