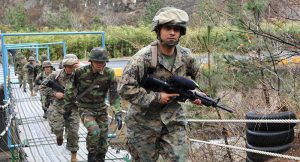 North Korea should avoid provocative actions against the joint US-South Korean Ulchi Freedom Guardian (UFG), a spokesman for South Korea's unification ministry said Monday.
Early Monday, tens of thousands of both US and South Korean servicemen began their participation in the UFG that would continue until August 31.
About 17,500 US servicemen and about 50,000 South Korean troops will reportedly attend the drills, which had been considered by North Korea as a rehearsal for invasion of its territory. Quoted from (Sputnik).
The United States and South Korea have a long historical cooperation and hold joint military exercises on a regular basis. The issue of security on the Korean Peninsula has become more complicated in recent years amid a series of ballistic and nuclear tests carried out by Pyongyang in violation of the UN Security Council's resolutions.