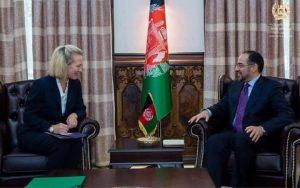 Afghan foreign minister Salahuddin Rabbani met with U.S acting assistant secretary of state for south and central Asian affairs Ms. Alice Wells at her office.
First, Ms. Wells stressed the importance of bilateral relations and cooperation with Afghanistan, for the United States, saying that the timing of that country to review its policy on Afghanistan is a sign of its seriousness and importance to the current U.S administration.
Salahuddin Rabbani also said that the Strategic Partnership Agreement and the Bilateral Security Agreement between Afghanistan and the United States of America highlight the importance of relations between the two countries, and hoped that a review of its policy about Afghanistan would be finalized and declared in the near future.
In addition, the two sides discussed the Afghanistan's political and security status, Afghan peace process, developments, and achievements in this regard with the leadership of Afghanistan and the role of countries, cooperating in these fields.