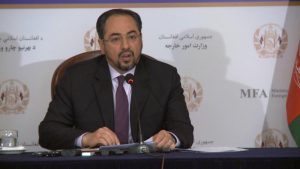 Acting minister of foreign affairs, Salahuddin Rabbani headed a high-level delegation of the government, traveled to the USA to attend the meeting of anti-Daesh (ISIS) coalition countries.
According to (DID) news agency report, Mr. Rabbani, who was present at a press conference of media, stressed that he tries to draw cooperation of anti-Daesh coalition countries to Afghanistan in relation to destroy the bases of terrorism outside Afghanistan's borders and putting pressure on Islamabad to fight scaremongering.
"As long as scaremongering bases be enabled outside the country, it will be difficult to fight terrorist groups in the region and Afghanistan," acting foreign minister added at the press conference.
Mr. Rabbani noted the trilateral meeting in London and the new meeting between Kabul-Moscow in Russia, that Kremlin does not recognize Taliban and its contacts with Taliban is with the aim to encourage this group to peace talks.
Acting minister of foreign affairs, who was talking at his last press conference at the end of the solar year, said that the year 1395 was the year of achievements for the state department.
According to Mr. Rabbani, opening (CASA,1000) project, Tapi project, signing Chabahar transit agreement, opening Asia railway and signing the agreement of establishing a joint economic belt of the silk road, have been six great achievements for the state department in 1395 solar year.
According to state department report, the government of Afghanistan will have two important meetings ahead in 1396 of the solar year; meetings like holding RECCA 7th meeting hosted by Turkmenistan, and holding the seventh meeting, Istanbul's foreign minister meeting hosted by Azerbaijan, are the important meetings which are considered destiny-making for the government of Afghanistan.