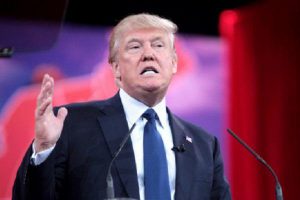 The U.S president complained on the cost of military support from Saudi Arabia and considered it unfair.
"Frankly, Saudi Arabia has not treated us fairly, because we are losing a tremendous amount of money in defending Saudi Arabia," Donald Trump has said in an interview.
According to (DID) news agency report, Trump confirmed his administration was in talks about possible visits to Saudi Arabia and Israel by next month. He is due to make his first trip abroad as president to participate in NATO summit in Brussels. Quoted from (Reuters).
Trump's criticism of Riyadh was a return to his 2016 election campaign rhetoric when he accused "the kingdom of not pulling its weight in paying for the US security umbrella."
The United States is the main supplier of armaments to Saudi Arabia and the U.S military exports to that country worth tens of billions of dollars in the recent years. America holds military services including training courses to Saudi forces. Mr. Trump believes that America is losing a tremendous amount of money, having military cooperation to Arabia.
Saudi officials have not showed any reaction to Trump's latest comments.
But Foreign Minister of Saudi Arabia reacted to similar comments from Trump during his election campaign last summer, and had said that his country "carries its own weight" as an ally.
Last month, Mohamed Bin Salman, the King's son, Crown prince and deputy defense minister of Saudi Arabia traveled to America and after the visit with Donald Trump, spoke about strength of relations between the two countries and their common views on various topics, including the need to "curb Iran" in the region. Relations of Saudi Arabia with America has started since 1930s and strengthened with the meeting of the U.S president and Saudi's king in 1945. The relations of the two countries got a strategic aspect, as Arabia become a major exporter of oil and a country with substantial financial resources in the subsequent decades.