Mr. Noor, who chaired provincial officials meeting in Balkh, "warned the government about any military action against himself,"
---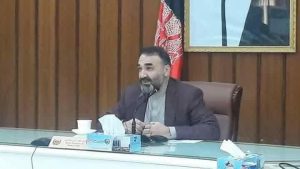 Balkh governor Ata M. Noor chaired provincial officials meeting Saturday, saying "he was, is and will be governor of Balkh province."
"I will not step down as governor until the demands of Hezb-e Jamiat-e Islami met by ARG palace," Mr. Noor stressed.
Mr. Noor, who chaired provincial officials meeting in Balkh, "warned the government about any military action against himself," adding "the security sector will break up in the event of such action."
The powerful northern politician said, this post is not "inherited to him." He will step down, provided that his party's conditions accepted by ARG palace.
Tensions between Ata M. Noor and ARG palace has raised fears of crisis in the country. Abdul Rab Rasul Sayyaf urged ARG and Jamiat-e Islami party Friday to compromise and ignore "nuance" issues.
Ata M. Noor was unexpectedly ousted as Balkh governor by the presidency last week, and Mr. Dawood was appointed as governor that was not accepted by Ata M. Noor and Hezb-e Jamiat Islami.