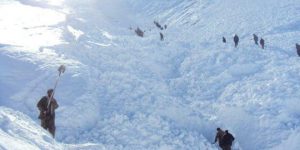 Local officials in Kunar province confirms avalanches has taken lives of at least 10 people in "Chapadara" district. 4 children and a woman is among the dead people.
According to the officials, 10 people were killed and 8 others wounded during the snowfall.
"The first avalanches hits a house in "Landarlan" village that killed 6 members of a family," said Abdul Ghani Musamam, the spokesman of Kunar governor.
According to Mr. Musamam, the second snowfall took place when the local people went there to save others under the snow.
Meanwhile, local residents said the attempts to take over the snow with shovel and pitcher were not successful.
This is the first snowfall in the country that takes lives of the people this year.