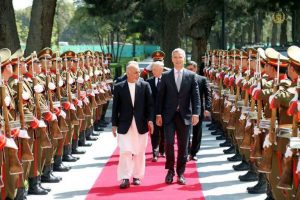 President Ghani at a joint press conference in Kabul with NATO secretary general Jens Stoltenberg and US defense secretary James Mattis stressed that Taliban and no other terror group can impose their demands on Afghan government through violence and force.
US defense Secretary James Mattis and NATO chief Jens Stoltenberg in unannounced visit entered Kabul on Wednesday. Later, attended a joint press conference with president Ghani.
"Now, it is a great opportunity for the armed oppositions to attend the peace process. They have two choices, to attend the peace process or work for others that will be destroyed," Mr. Ghani said.
On the other hand, NATO secretary general says that NATO back Afghan-led peace process and Taliban must know that they will not win on the battlefield.
"NATO withdrawal causes instability in the region," Mr. Stoltenberg added.
Meanwhile, James Mattis stressed on the complete elimination of insurgents in the region and Afghanistan, saying that the new US strategy will not allow Taliban, Al-Qaeda, and other terror groups to reach their goals.
"As long as the Taliban fight, they will face more pressure by the United States of America.," Mr. Mattis added.
The new US strategy on Afghanistan emphasizes on counter terrorism and a number of NATO state members approved to send more troops to Afghanistan.