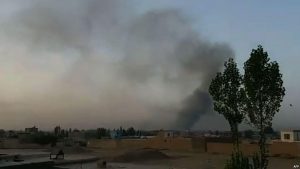 According to reports from southern Ghazni province, Taliban fighters have attacked on Jaghori district late Tuesday night.
According to the members of the provincial council, Dawood Jaghori area has fell to the Taliban group.
Police forces have suffered heavy casualties in the attack, the representatives of the provincial council said without giving exact details.
Meanwhile, the provincial police commander M. Yunus Ramazani confirmed Taliban attack on the district to 8 am newspaper, saying that Taliban fighters sheltered at the residential houses which make it difficult for the local forces to counter them.
However, the deputy spokesman for the president Shah Hussain Mortazavi said that reinforcement troops deployed to curb the attack.
The attack comes that some representatives of Ghazni province at the parliament claimed the province might probably collapse by Taliban once again.