People ask themselves that when the country's leaders are unable to provide the security of two-kilometers, so it is not wise to talk about eliminating those who have done a better job than them.
---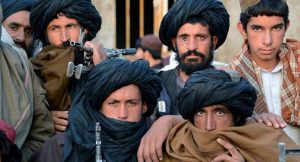 The Afghan war has seen many ups and downs, but what remained in this ongoing war, was murder, violence, barbarism, destruction, genocide and war crimes. Taliban, Haqqani network, and Daesh are responsible for the crimes. In the past, when civilians were killed in suicide attack; Taliban refused to accept the responsibility due to its enormity in public opinion. Most of Taliban's crimes recorded in the name of Daesh. Now, Taliban directly attack civilian centers, having high casualties and claim its responsibility either.
First, Afghan government pushed to find a solution with Pakistan which had no way. Pakistan did not stop supporting Taliban and use the group as a tool for its foreign policy. The efforts of Hamid Karzai's administration and the national unity government to end the conflict in dealing with Pakistan have been fruitless.
Now the Afghan government wants to pressure Pakistan to give up sponsoring Taliban through international aid.
Pakistan has felt the pressures. Therefore, shows reaction via suicide attacks to put pressure on Afghan government through public opinion, and force Kabul to give Pakistan a rating or come back to negotiation table like before and to pretend to the world that relations between the two states are improving, eventually reducing pressures.
Second:
America has put a serious pressure on Pakistan after announcing its strategy on Afghanistan.
The U.S aids which reach $2 billion annually, was suspended and the American president introduced Pakistan as a supporter of terrorism that fuels the Afghan war.
Pakistan, which politically, militarily and economically feels the pressure, wants to tell the US this that peace and stability in Afghanistan are impossible without Islamabad's cooperation; so that America must accept Pakistan's role.
Third:
There are debates inside and outside the country that Afghan government may achieve significant victories and Taliban closes its failure. On the other hand, national and international pressures on Taliban have stepped up, and now Taliban are pushing to show their power using any means possible; so that Afghan government and international community accept Taliban as a non-removable option. Taliban is maintaining its position in every upcoming program for Afghanistan.
Fourth:
Disputes within the government paved the way for Taliban to show off its power. It means the government's priority is wrong. State leaders squander part of their time on unimportant and non-national work. For example, dismissing Balkh governor. People ask themselves that when the country's leaders are unable to provide the security of two-kilometers, so it is not wise to talk about eliminating those who have done a better job than them.
Sayed Naser Mosavi
Translated by Taher Mojab