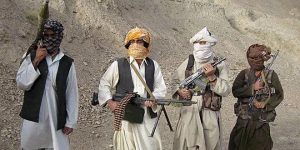 The Taliban have sent an "open letter" to President Donald Trump, reiterating their calls for America to leave Afghanistan after 16 years of war.
In a long note which is in English that was sent to journalists on Tuesday by Zabihullah Mujahid, the Taliban spokesman, the insurgents say Trump recognized the errors of his predecessors by seeking a review of the U.S. strategy for Afghanistan.
Mujahid says Trump should not hand control of the U.S, Afghan policy to the military but rather, announce the withdrawal of U.S. forces and not an increase in troops as the Trump administration has planned. Quoted from Associated Press.
The note also says that a U.S. withdrawal would "truly deliver American troops from harm's way" and bring about "an end to an inherited war."
The news comes as the Trump administration is reviewing a new strategy on Afghanistan, while blackwater, a private military company also proposed to enter Afghanistan.