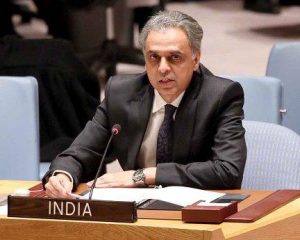 Indian permanent representative to the UN Syed Akbaruddin said Monday that Terror organizations are stealing the resources of Afghanistan which are belong to the Afghan people.
"The Security Council must act on the funds which the terrorists in Afghanistan are generating through their illicit activities," India's Permanent Representative to the UN Syed Akbaruddin said.
India has asked the UN Security Council to use its power of imposing sanctions as a weapon against terrorists in Afghanistan and to give the peace process an impetus.
He said India wanted the Council to also consider how sanctions can be a "leverage for progress in the peace process".
He has said that no distinction should be made between terrorist organizations like the Lashkar-e-Taiba and Jaish-e-Mohammad, which primarily operate against India, and the Taliban, Haqqani Network, Al Qaeda, the Islamic State that operate internationally.
"They should be treated like terrorist organizations with no justifications offered for their activities," he added.
It is noteworthy that the sanctions can be imposed under resolution known as 1988 adopted in 2011 by the Council against the Taliban and those connected to it.