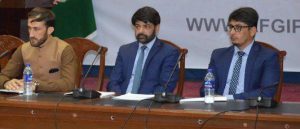 Afghanistan institute of peace welcomed the restart of quartet negotiation among Afghanistan, Pakistan, China, and the US, saying the talks are important for a regional agreement, but the result should be announced to the Afghan people, except the political intimate affairs, so that citizens of the country be informed.
The institute of peace in a press release, has called on negotiators to create a specific mechanism to monitor the negotiation process, in order to revive the lost trust and the negotiation process should be changed to an active and influential process from an inactive sate.
The body also urged the negotiating countries to focus on ending the war and closing the centers, funding and equipping terror groups, so that sub issues do not generalize the main topics.