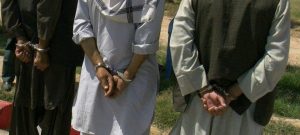 Three drug traffickers with 75 kg opium were arrested by the police in Jawzjan province, officials of 707 Pamir headquarter said.
According to the statement of Pamir 707 headquarter, three drug traffickers were detained around Sheberghan city, the capital of Jawzjan province.
"75 kg of opium, three Kalashnikovs and a car were confiscated," the statement added.
The men wanted to transfer the drugs and weapons outside the city that were stopped by the police.
The arrested people are in the police surveillance of Jawzjan province and the case is under investigation.
On the other hand, the attack of scaremongers on local police checkpoints of Qosh-Tapa district of Jawzjan province was defeated, killing an insurgent, Police in 707 Pamir headquarter said.